I like to be creative. Or, more accurately, I like to copy what other people do and pass it off as my own. I used to feel a tad guilty about stealing other peoples ideas, but then I came across my mantra, from the wise Albert Einstein. He said, "The secret to creativity is knowing how to hide your sources." Or, if you are in the corporate world, you can just call it "best practice sharing."
A few months ago Addi realized that Sam had her name on her bedroom door but SHE didn't. Since I am attempting to keep the sibling rivalry at bay at least until Sam has more than two teeth, I took that as a sign that I needed to get Addi's name on her door, pronto. I knew I could make something cute with all my
scrapbooking
supplies and got really excited to put it together!
Jay, of course, suggested taking boring paper, using my Cricket, and cutting her name out. Then taping it to her door. Simple, cheap, and to the point. I vetoed that immediately.
My friend Kacy makes these great wall hangings for friends so I decided to replicate them. With my
awesome Cricket
I knew I could cut out any letters myself and planned to place them on little flat wooden boards, so I headed to Michael's and got my needed supplies - paint, cute ribbon, chipboard flowers, scrapbook paper (for a later project, don't tell jay).
Then headed back the next day when I realized I forgot the actual little wooden boards. You know, what the entire project was based around. Oops.
I worked on it for a few nights, telling Addi each day that soon her name would be on her door. Hooray! She was so excited!
They turned out cute (in my humble opinion) and I think the kids will really like them once they know how to read.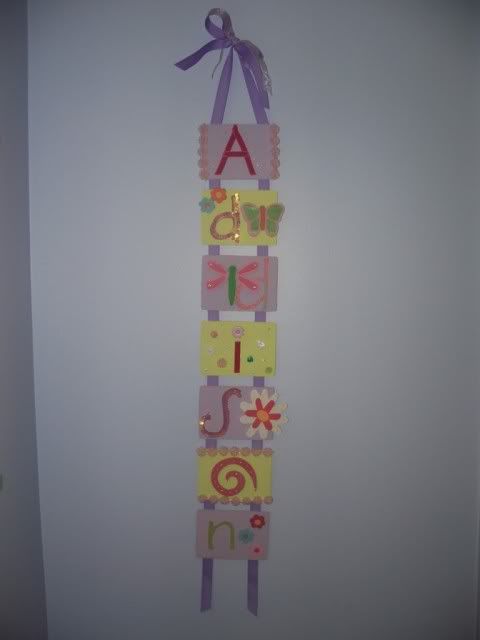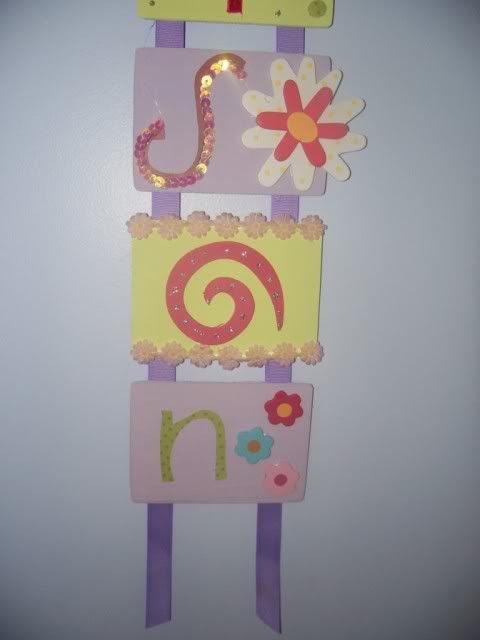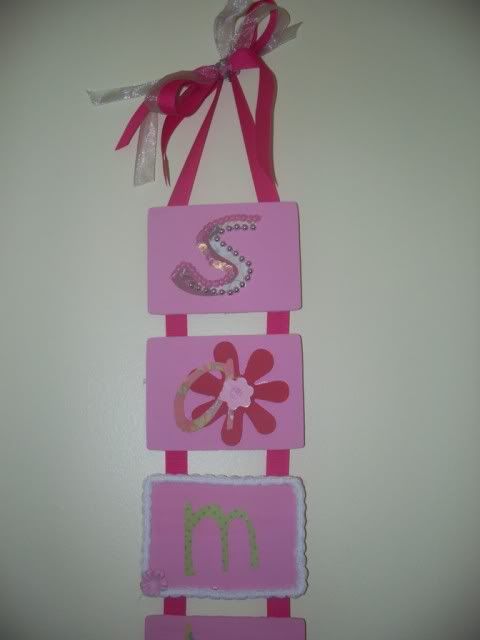 When I finally finished, I realized that if I hung it on her bedroom door it would slam loudly
every time
the door shut. Can't have that... with her attitude I foresee a lot of slamming doors in my future. But crap, she was SO excited to have her name on her door! That was the whole point.
So I got the Cricket back out and rushed to cut her name out of plain paper. And taped it on her door. Just like Jay said. I guess he was right after all, but these look really cute on the girls' walls!